MOVEON IS A COMMUNITY WHERE MILLIONS MOBILIZE FOR A BETTER SOCIETY — ONE WHERE EVERYONE CAN THRIVE
MoveOn's Petitions Platform provides individuals and organizations with free tools to start petitions, organize supporters, engage decision-makers, and win their own grassroots campaigns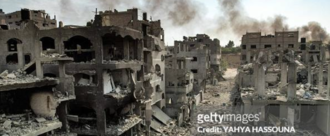 The recent violence against civilians by Hamas and the military response led by Israeli Prime Minister Netanyahu has already killed over 3,300 Palestinians and 1,400 Israelis, and wounded thousands more, with hundreds of people held hostage and hundreds more missing. If you're heartbroken, you are not alone. We can hold space in our hearts to mourn these deaths, while also calling on U.S. policymakers to use their power to do everything they can to stop all further loss of innocent lives, no matter the identity.
462,378 of 500,000

SIGNATURES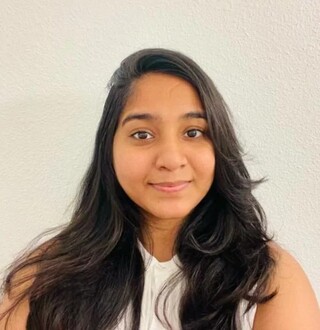 Jaahnavi Kandula, a 23 yr old student doing her Masters in Seattle, was hit and killed by a Seattle police officer. While the incident may or may not be an unfortunate accident (which needs to be investigated too), it is the behavior and reckless comments that followed by officers in responsible position that is totally UNACCEPTABLE. The Indian community in the entire country and world demand justice for Jaahnavi Kandula, and is asking for the officers to be held accountable. Not only was she mowed down like nothing, but the conversation of the officers after the event are utterly disgraceful and a shame to humanity. We demand that those officers be discharged from their duties, with no pension, and this incident be treated as manslaughter, and prosecuted. The officer in action, and the supervisor both, need to be investigated. Jaahnavi was NOT NOTHING. She has a family in India, a mother waiting for her daughter to come back home for Diwali or Christmas. Her mother, an elementary teacher, who took upon huge financial debts to send her daughter to the USA in hope of a better life: To a land that she thought is the land of opportunity, and the greatest country in the world! Let us confirm the greatness of our country, and prove that we still practice "liberty and justice for all"! Action needs to be taken. The disgraceful officers need to he held accountable for their racist, dehumanised and unethical remarks and conduct.
224,531 of 300,000

SIGNATURES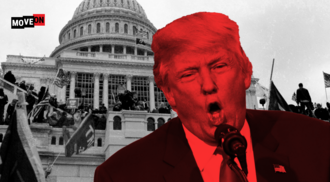 A federal grand jury has just indicted Trump for his attempts to overturn the results of the 2020 election. This is an essential step toward holding him accountable for inciting a deadly, white supremacist-led insurrection on January 6, 2021 and attempting to overthrow the government to remain in power, but this is not over yet. The Constitution's 14th Amendment provides for the disqualification from office of any person who has "engaged in insurrection or rebellion against" the United States. That includes Donald Trump. As a result, he does not meet the qualifications to become president again. Election officials in every state must respect the Constitution and reject Trump from their ballots. And Congress can help clarify that by passing legislation to bar Trump from office under the Fourteenth amendment.
442,667 of 500,000

SIGNATURES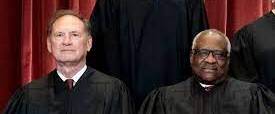 Supreme Court Justice Samuel Alito has enjoyed luxury vacations paid for by a rightwing megadonor who has brought cases before the court. Alito never revealed these gifts, nor recused himself from the cases. This is the latest instance of a corrupt Supreme Court. The Senate must investigate Alito and all the corruption and, if they find wrongdoing, impeach.
69,346 of 75,000

SIGNATURES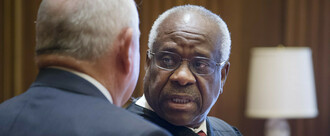 Justice Clarence Thomas must resign from the Supreme Court immediately or else be impeached.
1,350,648 of 1,400,000

SIGNATURES
MoveOn's completely free Progressive Partner program offers special benefits to movement allies who use our petition platform. As a Progressive Partner, you'll gain access to additional platform features and expert campaigning staff.


By joining the Progressive Partner program, you'll connect with MoveOn members who care about the issues you are leading on. MoveOn members support thousands of campaigns—local, national, and everything in between—helping to build a strong, cohesive progressive movement.

No matter where you live, you can take action with MoveOn
From fighting for racial justice to coming together to get through a pandemic to mobilizing to save our elections, you can join millions of MoveOn members and be part of making a difference